"How to make kaftan kurti "?
I was stunned at first when I was asked this question. My first question was "What is a Kaftan Kurti", later on I realized that it is the same thing as a kaftan but is a slightly modified Indian audience focused Kaftan.
But then my sister actually asked me how we could make a Kaftan Kurti, so this is the article I have decided to write in order to help people who are interested in making their own Kaftan Kurtis.
For those people who want to know (find) the short answers to the questions:
So.. what is a kaftan kurti?
A Kaftan Kurtis are one of the most fashionable outfits. They are simple yet stylish, comfortable to wear, and versatile in terms of the fabric used. People choose different fabrics for different occasions , for example they could use cotton based fabrics for informal use and silk based fabrics for formal use.
And now
And how to make a kaftan kurti?
A Kaftan or Caftan is a single-piece dress that people wear as a shirt or Kurti or as a night dress. The only difference is its length. Kaftan kurti requires the entire width of cloth and the larger the width, the longer will be the length of the sleeves. Professionals stitch only at the neck, sides, and the ankles. People usually stitch kaftans with cotton, satin, nylon, or silk fabrics and usually have embroidery or a print design near the neck.
Now for the people looking for some more detailed explanation on the above questions read on.
This article will cover the following topics:
1. The origin of Kaftan Kurti
2. Who wears Kaftan Kurtis?
3. Where and when to wear Kaftan Kurtis?
4. The right way to wear Kaftan Kurtis along with the types of Kaftan Kurtis?
5. Few examples of Kaftan kurtis from our designer collection.
Origin of Kaftan Kurtis
Kaftan Kurtis are a type of dress that originated in the Middle East and has since spread throughout the world. Kaftan style dresses and Kaftan Kurtis are among the most popular outfits among Indian women.
A Kaftan Kurti, also known as a caftan Kurti, is a type of robe or tunic. People in Asia started wearing them and then it spread to the rest of the world and they have been wearing it for thousands of years.
In Russian, Kaftan Kurti refers to a type of long suit for men with tight sleeves. People make Kaftans typically out of wool, cashmere, silk, or cotton and and they wear them with a sash.
During Ottoman Empire, people gave detailed and elaborately designed Kaftans to ambassadors and other important guests at the Topkapi Palace.
People passed down variations of the kaftan through Asian cultures and later people in Russia and North Asia, Eastern Europe and formerly Central Asia, Southwest Asia, and Northern Africa also started wearing them.
The Kaftan Kurti's styles use, and names differ from culture to culture. People commonly wear kaftan kurtis as a coat or overdress, with long sleeves that reach the ankles. As Kaftans are lightweight, loose-fitting garment they are suitable for warm climates. This is a part of Arabic culture.
Originally, Middle Eastern men wore kaftans with a belt around the waist. It has evolved into feminine clothing in the twenty-first century. Although nowadays women wear Kaftan kurtis, they remain a high-status symbol in Arabic culture.
Who wears Kaftan Kurtis?
Kaftan kurti is a style of dress that originated in the Middle East and has become popular across the world.
In India, Kaftan kurtis style and Kaftan Kurtis are one of the most popular outfits amongst Indian women.
To answer the question, it used to be for men but now women wear Kaftans predominatly.
Where and when to wear Kaftan Kurtis?
Usually people wear kurtas with jeans, but kaftan kurtas also be wear with jeans and looks good.
Combine it with some discarded jewelry for the ultimate boho look.
Always wear a floral kaftan kurti with a plain palazzo or salwar and avoid wearing it with another print, which will ruin the look.
If the kaftan kurti does not already have one, add a belt or a small waist rope.
A caftan also meets our long list of humidity-proof requirements: It's light, airy, and unrestrictive, yet surprisingly elegant. That is difficult to achieve with a generic sundress, A caftan kurti is a best choice for the beach, we believe that they would wear and work even in the citys.
The right way to wear Kaftan Kurtis and some of the types of Kaftan Kurtis
Usualy people wear Kaftan Kurtis as a coat or overdress, with long sleeves that reach the ankles.
People wear it as a lightweight, loose-fitting garment in warm climates. In many cultures the kaftan kurti represents royalty.
The kaftan Kurti is growing in popularity due to its style and comfort. women who prefer to dress in a chic and classy manner have a special taste that includes primarily of kaftans. Because Kaftans are very versatile, women can wear them in all types of ways.
Now that this post has become a comprehensive guide to all things kaftan Kurtis, let us take a look at the different types of Kaftan Kurtis:
Turkey kaftan kurti
Algerian kaftan kurti
Moroccan kaftan kurti
West African kaftan kurti
Russian kaftan kurti
and many more..
Turkish Kaftan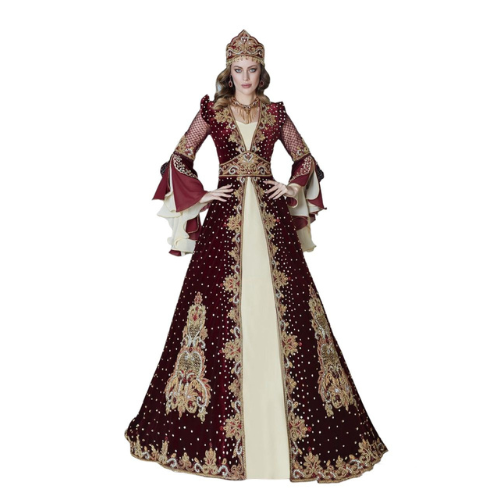 The caftan appears to be the most ancient Turkish costume, dating back to the Hun and Gokturk periods. The kaftan kurti was a popular garment among Central Asian Turkic states, the Turkic Empire in India, the Seljuk Turks, and the Ottomans,
It was the most important part of the Seljuk period, and the oldest known examples are said to have been discovered in Hun tombs.
The Gokturk period's costume consisted of long kaftans kurti that were closed with a belt at the waist; these kaftan kurti can be seen in Gokturk statues.
Algerian Kaftan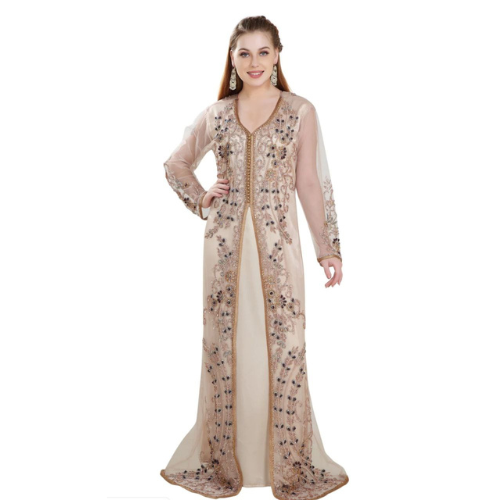 As Tlemcen's costume, the female kaftan kurti is inscribed in humanity's intangible cultural heritage. It is the centerpiece of Tlemcen's Chedda,
The kaftan kurti was historically documented to be worn in Algeria in the early 16th century and its presence in Algeria dates back to the Rustamid period and is attested during the Zirid period in the 10th century, as well as the Zayyanid period.
Moroccan Kaftan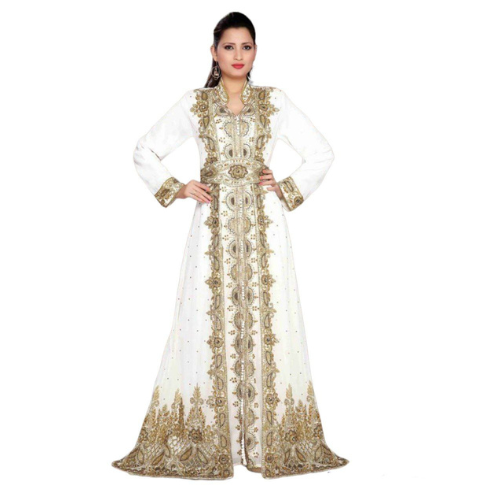 According to reports, the Ottomans introduced the kaftan kurti into the Barbary States and spread it through fashion as far as Morocco,
According to art historian Rachida Alaoui, the kaftan kurti in Morocco dates back to the end of the 15th century and is rooted in the region's Moorish history, representing the medieval heritage of Al-Andalus, However, she claims that the first written record of the garment being worn in Morocco dates from the 16th century.
West African Kaftan Kurti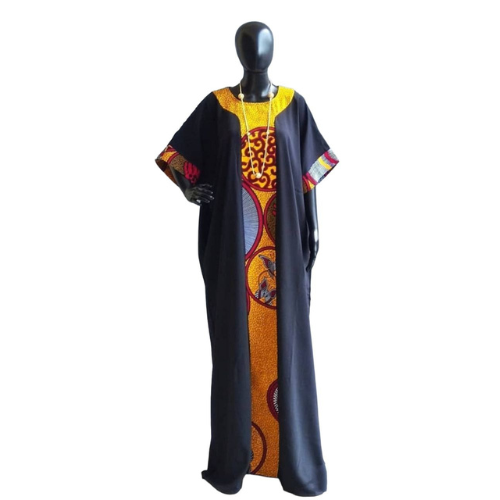 Men and women in west Africa wear kaftan as a pullover robe. They call the women's robe as kaftan, and for the men's robe they call it a Senegalese kaftan kurti.
A Senegalese kaftan is a men's pullover robe with long bell-shaped sleeves. The Senegalese people call the men's robe "mbubb" in the Wolof language and a boubou in French.
Russian Kaftan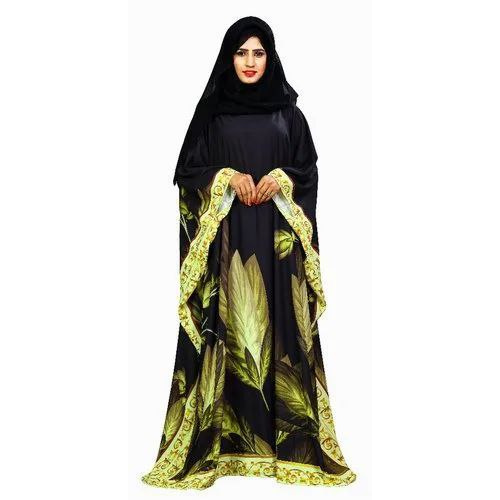 In Russia, the term "kaftan kurti" refers to another style of men's long suit with tight sleeves.
Going back to the various Baltic, Turkic, Varangian , and Iranic tribes who inhabited today's Russia alongside the Slavic population, kaftan like clothing was already common in ancient times in regions where the Rus' Khaganate and Kievan Rus' states later appeared.
Now that we know how Kaftans and Kaftan Kurtis are, lets look at some of our own designs that might interest you.
Some of our designs
If you are looking to get Women's Apparel in wholesale such as Abayas/Burqas, Jalabiyas, Kaftans, Kandooras, Cardigans, Kurtis, Skirts, Tunics, Pants, Dupattas, Shawls, Skirts, Jackets, designer gowns, nightdresses etc, then please get in touch with our team: [email protected]
We are a wholesale manufacturer of Women's Apparels, we supply clothing to Middle Eastern, North American, Europenan and Asian countries.
Read more
Check out our shop by clicking here
Follow our social media pages to stay updated with the latest trends:
Official Birbaboti's Facebook Page,
Birbaboti's Events Group on Facebook (Women For Tomorrow), and
Click here for Birbaboti's Instagram Page
Read more articles from us by clicking here