As an expert, or so I would like to believe myself to be. I have always had fascination for Arabian Clothes. A lot of people who ever brought up Arabian clothes, mostly looked at Abayas or Kaftans. It was quite interesting to see that people were missing out on this incredible type of garment we call a "Jalabiya".

I have written this article as a one stop article to explain everything about Jalabiyas.
Now for the people who are here to just get an overview of Jalabiyas, let's dive into it:
"What is a Jalabiya? "
The Jalabiya, sometimes people spell it as the Jelabiya or Jellabiya. It is a traditional Arab garment that both men and women wear. People wore it over other clothing and predates Islam. The female version is obviously synonymous with the Jilbab, with some using the informal name Jalabiya. The females wear it with Head coverings.
In Morocco, the jalabiya is a venerated robe, which never went out of fashion. Although it was originally a classic and simple outfit, nowadays,people decorate and embellish with sfifas, which are trimmings and embroideries that they add to the design.
Now read on if you want a more detailed explanation of the above questions.
In this article you will learn the following :
1: The Origin of Jalabiyas.
2. Who wears Jalabiyas?
3. Where do we wear Jalabiyas?
4: Important things to consider
5: Different types of jalabiyas.
1: The Origin of Jalabiyas.
The Moroccan jalabiya, like the Kaftan, is a traditional robe that came from the various cultures of the Maghreb and the wider Ottoman Empire. Even though the leaders of the Ottoman Empire were against the dress, it did not affect Morocco's culture and its dress code. The word "jalabiya" comes from the Arabic word "jilbab."
Originally, only men of high standing wore the jalabiya. The jalabiya, though coveted by all, was historically unavailable to common men due to its elegant design.
2. Who wears Jalabiyas?
A jalabiya has always been a part of the Arabian culture; women wore them on special occasions, and elderly women wore them in their homes on a daily basis. To people in other parts of the world, a jalabiya represents what Saudi women wear at home.
Wearing a jalabiya has become associated with Ramadan, this trend started in 2015. Nobody knows what triggered it, but women began buying jalabiyas at bazaars and mall stalls, and the garment became fashionable again.
Nowadays, many women prepare for Ramadan by purchasing new jalabiya gowns for the holy month and the numerous family and friend gatherings that take place throughout; a jalabiya has become an essential part of a Saudi woman's wardrobe.
3. Where do we wear Jalabiyas?
You can see that every Saudi woman prepares not only on a spiritual level but also on a closet level. Jalabiya, for Saudi women and Arab women in general, is a way of telling people how this month of Ramadan can improve and improve our spirits as well as our clothes.
Going back in time, Jalabiya is an Islamic garment associated with Arab ancestors. It was worn by kings and queens, who wore sophisticated, elegant gowns with wide cuts in the core or sleeves. Some claim that it originated in Egypt, but it appears that it has roots in all Gulf countries and Arab countries in general. In Morocco, a different version of the Jalabiya is worn, known as the Kaftan. We can now see Jalabiya making its way through the fashion industry all over the world. Many dresses designed by global brands can be worn as Jalabiya because they have similar vibes in cuts and garment materials.
4: Important things to consider.
When selecting a jalabiya arabic dress for yourself or as a gift, you must be certain of the following …
The quality of the material: You may become perplexed due to the abundance of jalabiya dresses on the market. However, keep in mind that the texture of the clothing is the most important factor. So, when choosing a jalabiya, consider the fabric textures to ensure maximum comfort while wearing it.
Avoid the cheap jalabiyas: The jalabiya arabic dress should ideally cover the majority of the woman's body. It also portrays the woman's persona in a beautiful and dignified way. That being said, avoid cheap jalabiyas and always stick to the traditional proportions of jalabiya.
5: Different types of jalabiyas.
Jalabiyas are popular in the Arab world and have gone through several fashion iterations. We bring you some of the Jalabiyas trends that are popular among women this season.
1.Solid Maxi Style jalabiyas
2. Sequined Collar and Sleeves Style jalabiya
3. Full Embroidery jalabiya
4. Shoulder Padded Style jalabiya
5. Cape style jalabiya
1.Solid Maxi Style jalabiyas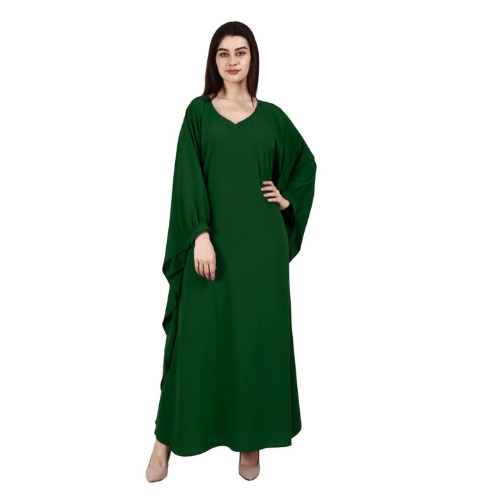 One of the most popular trends in the women's category this season is jalabiya's styled as a maxi dress and in solid colors. For this look, choose soft and smooth fabrics such as satin and crepe to create a cascading effect. A luxurious touch would be an embroidered or sequined neckline.
2. Sequined Collar and Sleeves Style jalabiya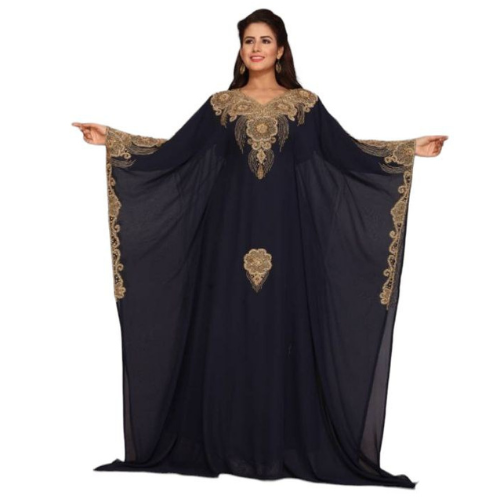 This style is distinguished by a heavily embroidered collar neckline and sleeves. At the end of the sleeves, add a large patch of embroidery or pearl work, as well as a large sequined collar. In this style, the waist is usually cinched with a diamond-shaped patch in the same work as the neck and sleeves. Keep the colour palette dark on this one to highlight the work on the collar, sleeves, and waist.
3. Full Embroidery jalabiya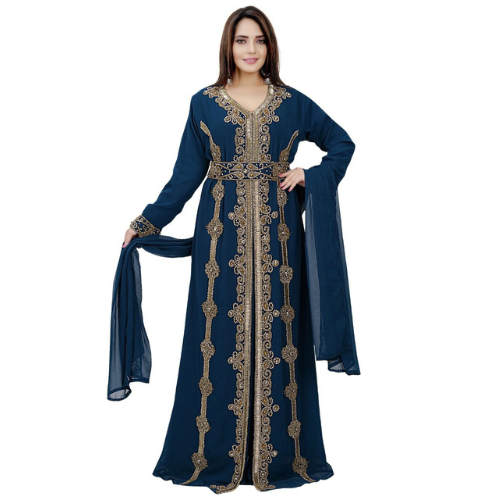 The embroidery that runs the entire length of the Jalabiya not only gives it a very traditional look but also adds height to the garment. Maintain a light color palette so that the work does not appear overly bright. Colors that work well with this style include mint green, baby pink, coral, and light blue.
4. Shoulder Padded Style jalabiya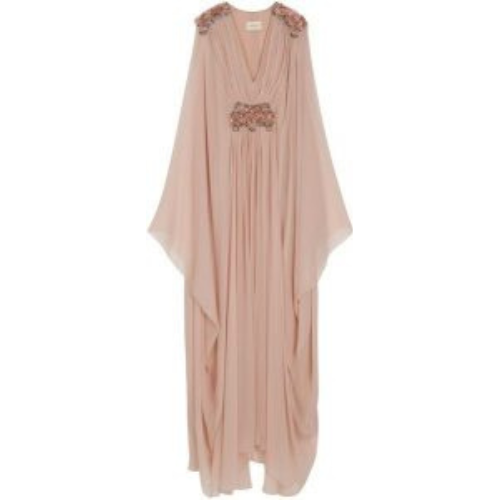 Chiffon is the best fabric to try in this style because it lends a flowy silhouette to the Jalabiya. This design look like a million bucks when we add a broad sequined patchwork attached to the shoulders and waist. To achieve a summery vibe, keep the colors light, such as beige or off-white. This Dress in the Kaftan style has layers of chiffon that do not appear heavy but add depth to the design.
5. Cape style Jalabiya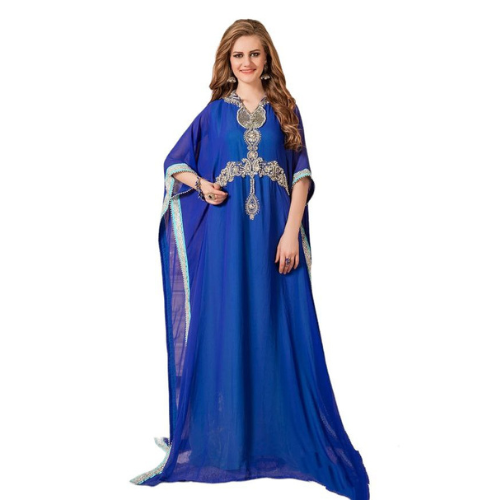 A cape is attached to the Jalabiya in this style and the cape transitions into floor-length open sleeves. The cape can be made of light fabrics such as net, chiffon, or georgette, with deep colors such as indigo, black, maroon, and brown.
If you are looking to get Women's Apparel in wholesale such as Abayas/Burqas, Jalabiyas, Kaftans, Kandooras, Cardigans, Kurtis, Skirts, Tunics, Pants, Dupattas, Shawls, Skirts, Jackets, designer gowns, nightdresses etc, then please get in touch with our team: [email protected]
We are a wholesale manufacturer of Women's Apparels, we supply clothing to Middle Eastern, North American, Europenan and Asian countries.
Read more
Check out our shop by clicking here
Follow our social media pages to stay updated with the latest trends:
Official Birbaboti's Facebook Page,
Birbaboti's Events Group on Facebook (Women For Tomorrow), and
Click here for Birbaboti's Instagram Page
Read more articles from us by clicking here