One of the most popular bottom garments we call a "skirt" seems to be very popular, and yet we can not find much information on it.
People seem to be overlooking the need for such information on the internet on skirts. I am sure there are people from other cultures that do not wear skirts who are eagerly looking for information on the origins of it and the ways to wear them.
for those who want a brief explanation
"What is a skirt?"
A skirt is the lower part of a dress. or a separate outer garment that covers a person from the waist down.
A skirt, at its most basic, is a draped garment made from a single piece of fabric. Most skirts, on the other hand, are fitted to the body at the waist or hips and fuller below, with the fullness introduced through darts, gores, pleats, or panels. Modern skirts are typically made of light to medium-weight fabrics like denim, jersey, worsted, or poplin. Skirts made of thin or clingy fabrics are frequently worn with slips to improve the drape of the skirt and for modesty.
for the people looking for some more detailed explanation on the above questions read o
1: The Origin of Skirts
2: Who wear skirts?
3: where to wear skirts?
4: What is the right way to wear Skirts
5: Different types of skirts.
1: The Origin of Skirts.
A skirt is a type of clothing that hangs from the waist. People wear various skirts in many different cultures at various times. Some skirts are suitable for both men and women.
Women typically wear skirts in modern Western / European culture. The kilt and fustanella, which are traditional skirts for men that they still wear today, are an exception. People wear skirts at semi-formal and sometimes formal events, though dresses are more common. Basically we call the bottom half of dress "skirts". People have been wearing skirts for a very long time.
Archaeologists In Armenia discovered straw skirts dating from 3.900 BC. In Egypt both men and women wore skirts. People in the South of West and Central Europe wore dresses-style clothing during the Bronze Age. People in Northern Europe wore skirts and blouses.
2: Who wears skirts?
Some skirts are suitable for both men and women.
Outside of Western cultures, men's clothing commonly includes skirts and skirts-ike garments; however, in North America and much of Europe, skirts are typically seen as feminine clothing and are not always considered acceptable for men and boys to wear. While there are exceptions, most notably the cassock and kilt, these are not considered'skirts' in the traditional sense of fashion wear; rather, they are worn as cultural and vocational garments. People have tried in various ways to promote the fashionable wearing of skirts by men in Western culture and to abolish this gender distinction.
3: Where to wear Skirts?
People wear skirts in all types of settings, depending on the type of style and variation they are. There are formal and informal variants. People wear some during office meetings, business meetings and formal events. People wear some for informal casual events and activities.
4: What is the right way to wear Skirts?
Skirts are a simple summer outfit, but it can be difficult to know what to wear with a skirt, which tops look best with which skirts, and how to style shirts with a skirt.
Let's talk about it!
What should you wear with a full skirt?
To balance the volume of full, flowy skirts with lot of volumes, such as A-line skirts, tiered skirts, or full maxi skirts, pair them with more fitted tops. A full, voluminous top will add bulk on top and bottom, making you appear larger overall.
Use a bodysuit as a fitted shirt with a skirt.
A bodysuit is an excellent choice for wearing with a full skirt. Alternatively, a lightweight slim-fit shirt. Below are links to my favorite white short sleeve bodysuit and this black slim-fit tee. Crop tops are also a good option and are currently in style.
Of course, you can wear graphic tees, button-downs, printed blouses, or anything else you want, but keep it slim fit to balance out the fullness of the skirts.
What should you wear with fitted skirts?
Fitted skirts, such as a pencil or mermaid style, should have the same volume balance. It will simply be the inverse of the full skirt. The fitted bottom is for the adding of some volume to the top with a blouse, a shirt with full sleeves, or a ruffled top.
5: Different types of skrt.
1: A-line skirt
2: Box pleat skirt
3: Bubble skirt
4: Circular skirt
5:Gathered skirt
6: Handkerchief skirt
1: A-line skirt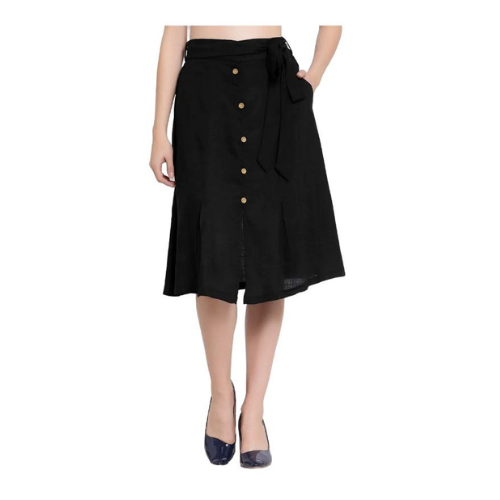 The A-line skirt is ideal for a pear-shaped figure (like mine!). When laid flat, it is usually knee-length and forms a triangular shape. It is a simple-to-sew option that looks good in a variety of fabrics.
2: Box pleat skirt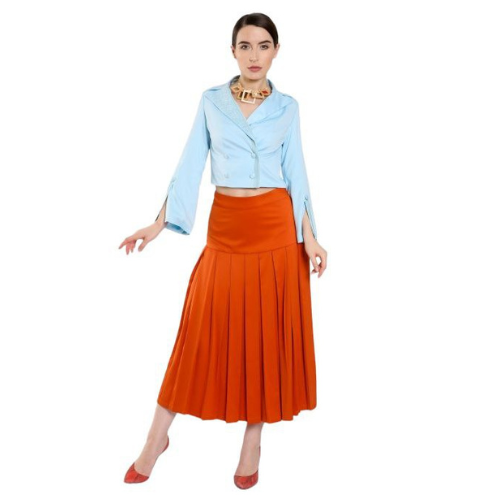 The box pleat skirt is a pleated skirt style variation. Allowing the pleat's two folds to meet and form the box part of the pleat creates a box pleat. The repition of the the pleat pattern is all around it. They make Box pleat skirts frequently out of thicker fabrics to give it volume and shape.
3: Bubble skirt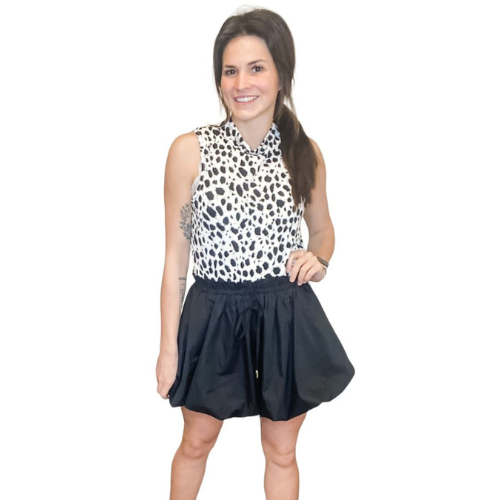 Because the hem fabric is gathered onto a band rather than a turned-up hem, the bubble skirt puffs out at the hem. This band is kept under the skirt so that the top of it 'bubbles' over it.
These skirts require a lot of fabric because they have two skirts – one straight skirt underneath and one gathered skirt on the outside. These are fashion item that comes and goes rather than wardrobe staple. Bubble skirts are typically cut above the knee because anything longer adds a lot of volume to it.
4: Circular skirt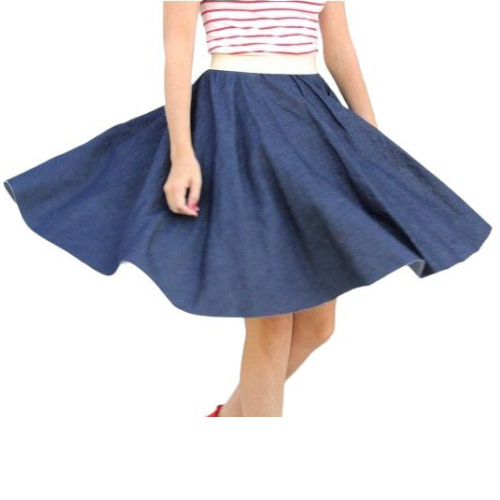 Circular skirts, that sometimes people call skater skirts. Cutting the fabric of choice in cirlce gives us skater skirts. The professionals sew it to a waistband that fits snugly around the wearer's waist. So when we lay the skirt flat, it forms a circle.
The circular skirt requires a substantial amount of fabric. It comes in a variety of lengths, from long and flowing to short and sassy. The circular skirt is ideal for active outdoor wear and is people use it frequently for tennis skirts.
5:Gathered skirt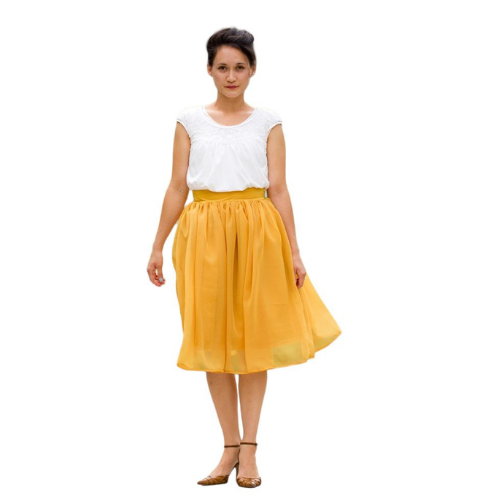 The gathered skirt is a very simple style to emulate. These skirts have a gathering type of waistband. The amount of fabric in the part of the pattern and the gathers pulled up to fit onto the waistband determine the fullness of it. A gathered skirt can range in length from short to full. It works best with light to medium-weight fabrics.
6: Handkerchief skirt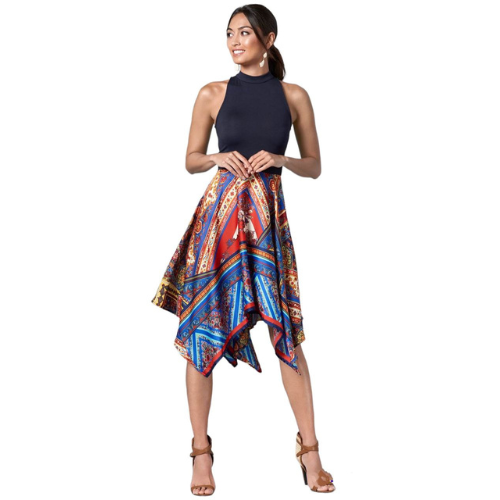 The handkerchief skirts are fun skirts to wear because the handkerchief shapes style dropping down from the waist. To achieve this look, they cut they cut in a rectangle or square shape. You must use soft, drapey fabrics or the points will stick out and add a lot of unwanted volume to it.
If you are looking to get Women's Apparel in wholesale such as Abayas/Burqas, Jalabiyas, Kaftans, Kandooras, Cardigans, Kurtis, Skirts, Tunics, Pants, Dupattas, Shawls, Skirts, Jackets, designer gowns, nightdresses etc, then please get in touch with our team: [email protected]
We are a wholesale manufacturer of Women's Apparels, we supply clothing to Middle Eastern, North American, Europenan and Asian countries.
Read more
Check out our shop by clicking here
Follow our social media pages to stay updated with the latest trends:
Official Birbaboti's Facebook Page,
Birbaboti's Events Group on Facebook (Women For Tomorrow), and
Click here for Birbaboti's Instagram Page
Read more articles from us by clicking here